There are a lot of things i want to say, but the end point is that I loose the energy to write. Few things i remember though...

I found my old jot down notebook yesterday and found something I wrote 3 years ago.


It's tiring to plan,
It's frightening to act,
But if you want to get a life,
STAND UP!


guess the 3 years ago Yuli is poking me lah~
It is getting down and dirty in our review class and just to understand why our reviewer is speaking Greek, I promise to lessen the number of hours I spend with Facebook applications. I think I'm close to dying if that's the case. @_@ Idiot, I know! For goodness sake why do these games have opioid ingredients? Soooo Addictive!!!

I was hooked to Street Racing, Yoville, Vampire Wars, Mafia Wars, Fashion Wars and all the wars. (yeah, corny!) Holla back Ladies and Gents, here are the games that really made me an addict.


1...2...3...ahhhhh! how cute! probably that's your first reaction when you created your pet and saw it for the first time playing her skipping rope or ball. What makes this addictive? I don't know exactly either. Maybe because we can visit our friends house and drop some love or maybe because it's waste/stool/sh*t can turn into golden coins! How can that possibly happen? The man behind pet society is better than Einstein. Out of this world! :X
Another playfish application, Restaurant City People! My friends kept on talking about this game and felt like i'm the only one left not playing. So I tried and before i knew it..wooow, i'm addicted. This game is so fun because you can hire your friends as the chef, waiter or if your sarcastic...the cleaner of you restaurant. Must mention, you can name your our Restau! Mine's The Talon and yeap, it's taken from Smallville lah~.
And tan ta da dannnnn.... lastly which i'm currently so into. FARMTOWN baby. This game teaches you to be patient because you have to wait for 2-4 days (depends on the seed used) for your plants to grow. NoPe, you can't buy fertilizers in the market so there's no fast forward. My ultimate dream is to buy a mansion, but my schedule is getting harsh up until the end of this year so I've gotta shake it of be contented with white farm house. It looks like in smallville anyways, so no problemo amigos.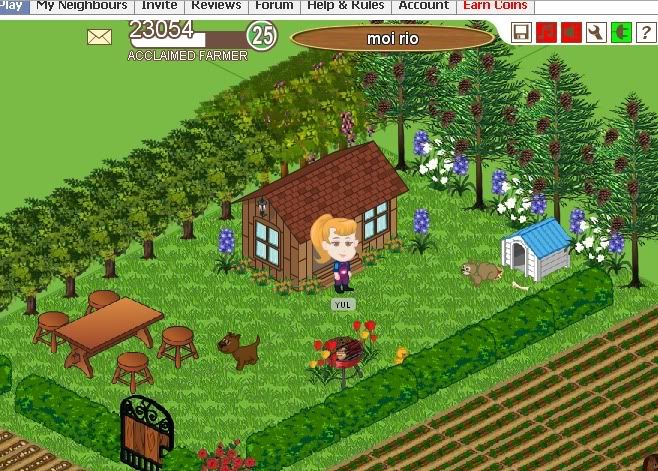 In relation to farming...here's a very interesting photo my Uni took. It says

"pepper or chili".

Hmm.. my Uni has pretty good taste.
To enhance my lame attempt to stop FB application addiction. I'm trying to persuade myself to agree with Julian Smith. Ever heard of "25 things I hate about Facebook."? or how 'bout happyslip's "Facebook Fever!"?
So what's your favorite FB application or your already sick and tired and wanna holler BOOOO FaceBook? Drop some love lah~
*^^*