This is based on my conversation with a friend who lives in Manila. This post is intended for those people don't know well and have wrong concepts on our dear city. . .

Q: How does it feel living in davao? err.. Broad question, be specific please. :D
Q: How does Davao look like? Are there a lot of farms with goats and cows?
I was like, huh? here's a view from our class room. let's just allow the picture do the talking =)
What makes Davao a great city to live is that it has the right blend of modernization yet stays friendly with the environment





Q: Are there a lot of Muslims in your place and are there any Abu Sayaffs?




Yes, there are some Muslims who live in Davao and it saddens me to accept the fact that most of the Filipinos' impression on Muslims would always relate to violence. But I could not blame my fellow Filipinos well, beside from infamous Manny Pacquioa's superb achievement in the boxing arena, we can't deny the fact that Philippines also became famous because of the kidnapping of people from this DEMENTED GROUP! Remember the Martin and Gracia Burnham kidnapping? I would end up questioning why do these people are not infected with colon cancer instead of good people like the late president, Corazon Aquino. But here's the thing why i will never condemn the muslims as a whole. Way back in grade school, I had this classmate who said to me "we are not like the other Muslims that you see in televisions, we do not want war". We were so young then and at that young age, my classmate already felt the dilemma. in logic that true to all is true to some but true to some is not true to all. The law of subaltern. It's always wrong to generalize, but human as we are, we often say before me think and just ride on with our emotions.just like now, I'm getting off the topic . yay!




Q: Can all of the people in Davao speak tagalog (Philippine Language)?




I bet, yes! basing on my experiences even those people who were not formally educated, they can speak tagalog and english...carabao english and tagalog nga lang. :) Funny thing is, in our school, not everyone can speak visayan (our local dialect) but everyone can speak tagalog and english. I would often hear people trying to speak visayan (carabao visayan ^^ ) since we need to communicate to the people using the local dialect. Maui, I salute you! you are now an expert when speaking visayan! :))




A quick list why I'm proud of our city




1. Next to Quezon City, Davao is the next most livable city in Philippines.

2. Since I realized that I have the ability to think, it was only twice when we experience storm signal number 1.

3. You don't have to travel 2 hours to reach the beach, the marvelous white sand of Samal Island is just few minutes away.

4. Technically, it's a safe place for the good people. Heard the death squad rumors? so if your a bad guy, stay away from the city, seriously.


5. We have the most hard working metro aides in the country (plus the well disciplined people), thank you for making our city clean!


6. Cigarette smoking is prohibited in the public places. Our cops should implement this law strictly, they should not wait our mayor to remind them again.

7. Our mayor, Rodrigo Duterte is definitely the best. PERIOD!





Few more days, our city will be celebrating

the festivals of festivals.


HAPPY

KADAYAWAN DAVAO!




...........................................................................................

My friend, Aying is celebrating her 21st birthday today. We grow so fast!!!


Below is our birthday girl with my poor photohop skill =)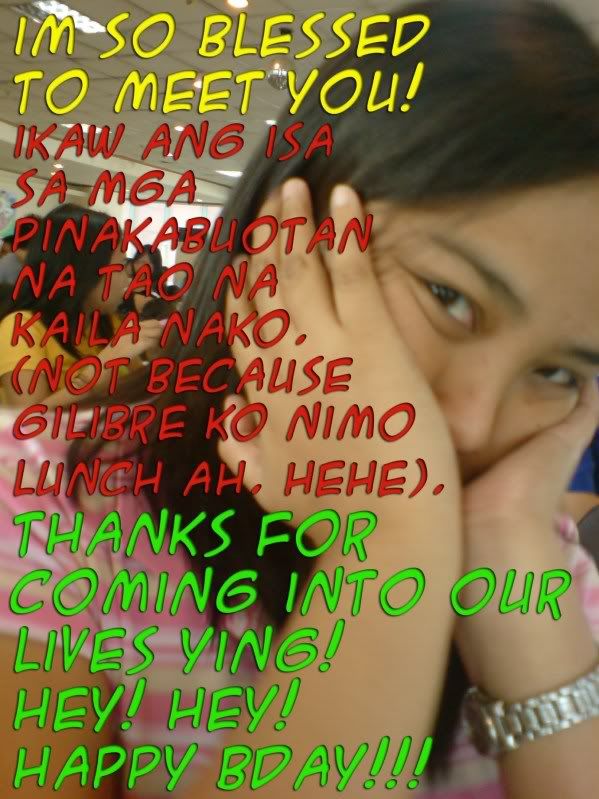 And this is me, showing off one of our 6 pizzas. time to pig out. yehey! =)